Virtual Career Fair of ETH Zurich
The virtual career fair of ETH Zurich
Register now for free on www.polyefair.ch
Are you currently looking for a job or want to explore potential future career pathways? poly-E-fair: the virtual career fair of ETH Zurich lets you get close with more than 30 reputable global companies simply via your browser. Safe, efficient and from anywhere you want!
poly-E-fair is the pioneer of digital solutions to human interactions. One year ago, westarted our first virtual career fair for ETH Zurich and were among the first ones in Europe. In this time of social distancing, poly-E-fair2020 becomes more relevant than ever as you can interact with companies from various industries around the globe without leaving your place. These companies – pioneers in digital recruitment – are looking forward to meeting you at poly-E-fair 2020.
How does it work?
Virtual booths: explore your dream company – your potential employer;
Built-in chat & call: your chance to impress company representatives with your professional attitude and interest via engaging live conversations;
Online profile: your stage to shine. Connect your LinkedIn, describe your career goals and let the recruiters find YOU! (Note: your virtual profile is visible to the companies, not to the other visitors.)
Built-in application tool: send your application document directly to company representatives;
Keynote speeches & company live-streams: workshops and speeches on how to find your desired job, avoid common job application mistakes and get invaluable insights into companies' business!
REGISTER NOW & check the participating companies: www.polyefair.ch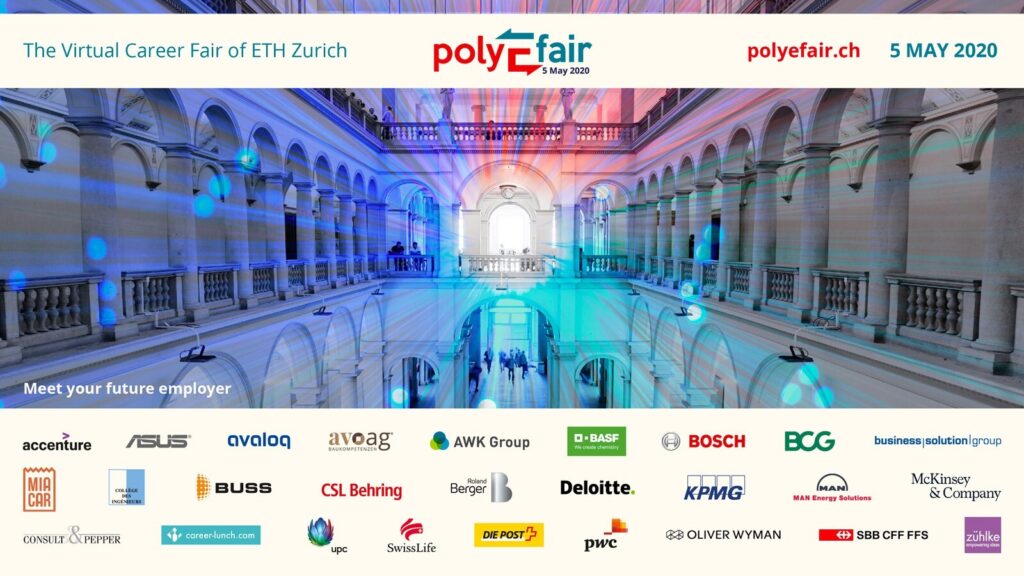 ---
Get the latest updates: Instagram, LinkedIn,Twitter andFacebook!
---
Brought to you by Telejob (AVETH), Forum&Contact (VSETH), and ETH Alumni Association.