HAS politically represents doctoral students and higher scientific staff at the departmental level! HAS meetings are open to the entire scientific staff at D-HEST. Everyone is welcome to join the discussion and initiate new topics. We want to hear your opinion about the issues we are asked to vote on so we can make the right decision:
Revised Ordinance on Doctoral Studies will be discussed with work group of HAS representatives in June and is planned to come into effect on 1st October 2021
2 thesis exam formats compliant with current Covid-19 Masterplan:
Fully remote with video conference managed by ETH Multimedia Services or the candidate's group
Hybrid mode (candidate, supervisor, co-examiner(s) and chair onsite and/or remote; Contact Tracing by candidate's group required
For context HAS is actively involved in the internal political life at D-HEST and HAS is part of AVETH which is involved in ETH Zurich politics: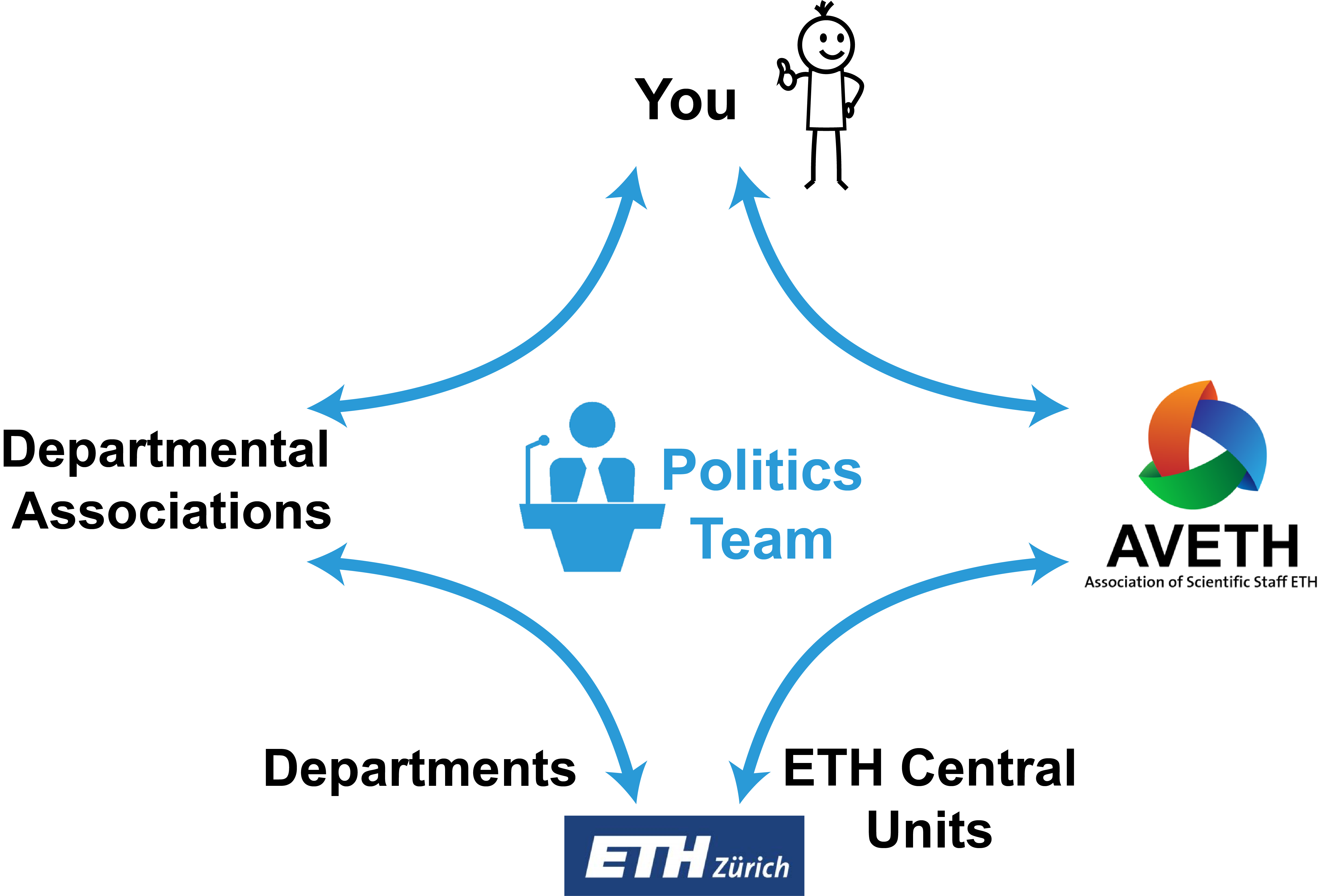 HAS is frequently asked for its opinion on various projects happening at the departmental level!
DEPARTMENT LEVEL
HAS is the Department Association (DA) of the Health Sciences and Technology Department at ETH Zurich. We participate in the departmental commissions and conferences.
ETH LEVEL
• ETH commissions (e.g. Strategy, teaching, ASVZ, WOKO, Forum Nachwuchsförderung, etc.)
• University Assembly • Regular meetings with the Executive Board (e.g. ETH rector, president, vice-presidents, etc.) • Occasional meetings with members of the Lecturer's Conference (KdL)
SWISS AND EUROPEAN LEVEL
• Membership in ActionUni— the Swiss organization for scientific staff
• EuroDoc—an organization for doctoral students across Europe.